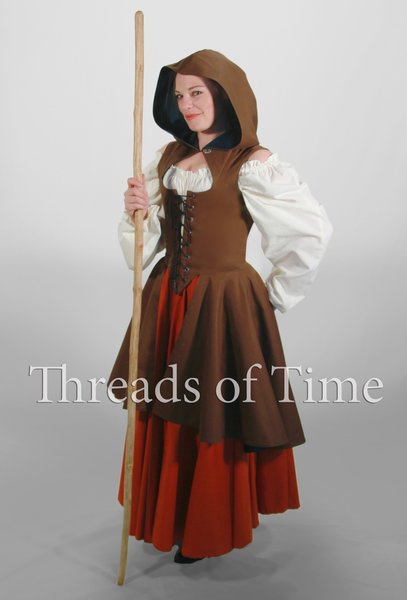 This versatile dress/bodice is a perfect addition to any wardrobe. It is great for any Fantasy or LARP character. Ranges anywhere from foresty woodland fairy to bad-ass female fighter. Can be worn with chemise and skirts, or tank top and leggings - or any combination you desire!!
It is fully reversible and features a hood with keyhole neck when closed, drop back point attached skirt and optional shoulder epaulets. It is also machine washable!! All seams are reinforced to withstand any LARP battle. It has boning by the lacing to stop unseemly bunching. Shoulder epaulets are optional, and an added cost. Made of solid colored, heavy cotton twill for a durable and long lasting garment. Please choose two colors for the garment, as it is reversible. This garment will fit best if you can give us your bust and waist circumferences, to ensure a proper fit.
The name Babd comes from Irish mythology. The Badb or Badhbh (Modern Irish, pronounced [ˈbəiv])—meaning "crow"—is a war goddess who takes the form of a crow, and is thus sometimes known as Badb Catha ("battle crow"). She is known to cause fear and confusion among soldiers to move the tide of battle to her favored side. Badb may also appear prior to a battle to foreshadow the extent of the carnage to come, or to predict the death of a notable person. She would sometimes do this through wailing cries, leading to comparisons with the bean-sídhe (banshee).