Leather Belt - mens and womens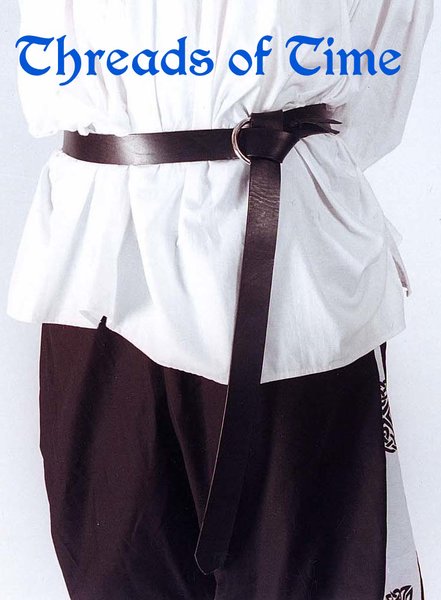 We know garb and as a result we have made a belt to keep that garb looking it's best.
This is a period style, single ring belt with a superior level of detail, suitable for men or women. The belt is made from a 9/10 oz weight "English" bridle leather, which has oils and tallow pressed into it. All of the edges are on the belt are trimmed giving the edge a smooth profile. Approximate width of 1 1/2" wide is suitable for the men, and a narrower 1" wide for the ladies. Available in black with brass or silver ring, or brown with brass ring. The ring is solid brass or nickel plated solid brass and is attached to the belt with a traditional harness tie method, no rivets are used. As a final touch the back surface of the leather has been treated with an acrylic sealer, to cut down dye bleeding which is so common to other belts.
The result of all this is a belt which, as much as is humanly possible, will not ruin your outfit. The oils and tallow will keep the leather soft, supple and somewhat waterproof. The ring will not rust. The rounded belt edges will make it more comforatable and easier for getting your accessories on and off.
The ladies might also like our Skirt Keepers for keeping your skirts hiked up and out of the dirt.