Bellacane (1 Piece) - Noble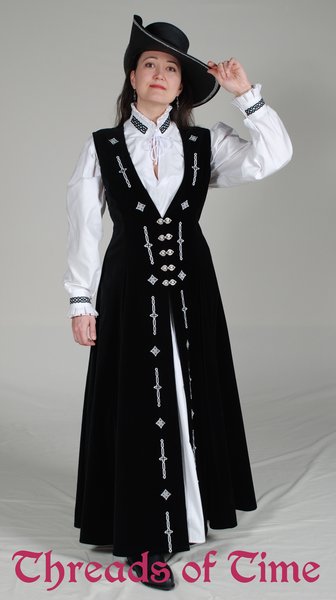 This outfits has that "WOW" factor, without loosing any comfort when wearing it. The overdress is a tailored, over-vest style dress that is easy to wear, very comfortable and very flattering. It has lacing at the lower back for some adjustability and a clasp closure front for more flair. It comes in a cotton velveteen fabric that is machine washable, though we do recommend dry cleaning to keep the garment as pristine as possible. This dress would make a great semi-casual wedding dress, or mother's dress. Wear the dress a little less formally by leaving the neck of the Celtic Noble Chemise untied.

The embroidery runs the full length of the front edges of the dress. There are roughly 24 separate embroideries on the dress, this may vary with length of dress. The front section of the dress is lined to protect the embroidery, and so when the hem kicks open, you don't see the rough back side of the embroidery.

We recommend the Noble Bellacane dress to be worn as the outfit pictured here, with the Celtic Noblelady Chemise. The Celtic Noblelady Chemise is sold separately and is linked below. If you are looking for more versatility we recommend our plain Bellacane, also linked below. Our plain Bellacane can be worn many different ways and is an EXTREMELY versatile dress.


This pricing if just for the overdress piece, called the Noble Bellacane. The Celtic Noblelady Chemise is sold separately and is linked below.
Silver clasps are standard. If a gold or light gold embroidery color is chosen, gold clasps will be used.
Also great for pregnant ladies, because it should still fit after the pregnancy!!!
Please inquire before ordering for velveteen color availability. Please email us.
Sleeve options ( either sewn in or tie on - angel sleeves, fitted sleeves, cuffed sleeves, etc) are available as well, contact us for more details.
Custom sizing is advisable for this item. To ensure a proper fit, please give us your Measurements.