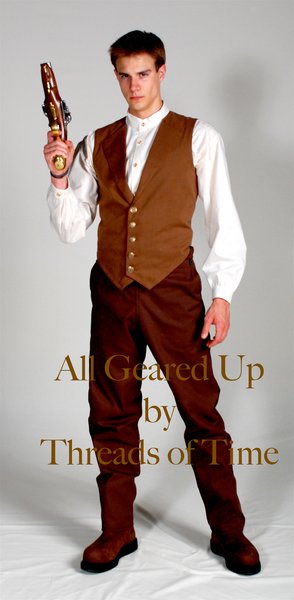 A very distinguished vest, made of cotton twill and lined with same. Lapels, 5 buttons (or clasps), and a double drop point front all contribute to the agelessness of this garment. Liner will always come in black so lapels are accented if choosing a colored fabric. Back lacing provides minor waist adjustments. If you'd like the garment in all one color please let us know after ordering (brown will come in one color). Looks just as sharp with pants as it does with a kilt. Available in your choice of color combinations.
Made of 100% cotton twill and is machine washable.

Other fabrics, like velveteen, are available by Special Order. Special Orders -may- result in additional charges.

Your choice of closure options and colors.

Shown here in the burgundy with our Royal tunic, Doublet pants and our Leather boots. Brown version shown with our Adventurer Shirt and Drop Front Pants.
Also available in a embroidered version called the Inverness Vest.
Back Lacing Close Up View: