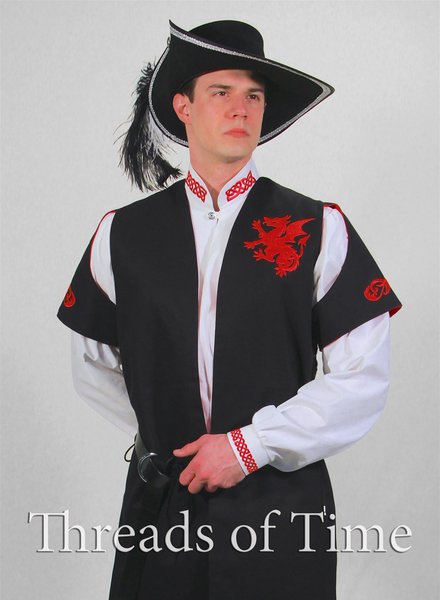 Embroidered on the chest of this garment is a stylized Heraldic animal with flourish patterns in the front corners/sleeves. (Hoping to get all pictures of options soon - email me if interested in pictures) This is an easy to wear garment and very comfortable. Adds a touch of class without much fuss. Surcoat Sleeves are shown with the red Dragon design. To see the other Style Options please view our Long Vest - All Styles -No Embroidery. If the Cowl option is chosen, the chest embroidery will be on the Cowl. This vest pairs nicely with our Crownguard or Royal Tunic.

Our Long Vest is extremely versatile and encompasses many time periods. It looks just as stunning belted with pants as it does open with a kilt. The Long Vest comes standard with side lacing. There are no closures to the front of this vest, it can be worn slightly over lapped or open, to your taste. And it is fully reversible, effectively two vests in one!! The non-embroidered "liner" side comes standard in black. Other color options for the "liner" side may be requested in the Special Instructions above.


Made of 100% cotton and is machine washable.
Comes standard 35" in length.
Custom sizes or colors combinations are available by Special Request.
Available without embroidery as our Long Vest. Or with other embroideries as well.