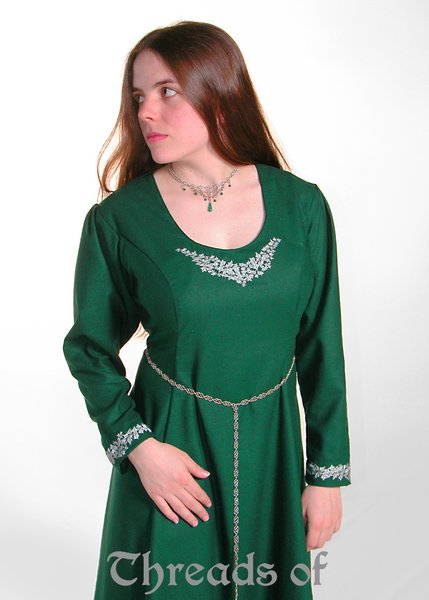 A most elegant variation of the traditional kirtle, but with a more tailored fit. With the lovely Ivy embroidery providing a much richer look to the dress. It is a slip-on style with lacing at the lower back for ease of wear and comfort. There are also multiple sleeve options. Please see below.
Currently available only in a shirt-weight cotton fabric. It can be special ordered in a cotton velveteen or rayon for a more formal look. Please inquire for available colors. The cotton Velveteen has a soft look and texture to it, while still being machine washable. If you'd like fabric samples just drop us an email. Can also be made in a fabric you provide, inquire for more details. Lighter colors for Brides and Bridal parties are also available by Special Order.
Custom sizing is advisable for this item. To ensure a proper fit, please give us your Measurements the Special Instructions.

Made of 100% cotton. Other fabrics available by Special Order.

Special Orders -may- result in additional charges.
Other styles available. Please view our Marion dress, Keely dress or our Celtic Lady dress.
Available in your choice of embroidery colors and fabric colors.
Sorry, sterling silver belt is not available.
Chainmaille necklace provided by Mardigan's Maile.com.
SLEEVE OPTIONS: