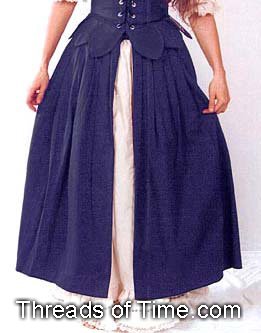 This complimentary overskirt is made of heavy twill cotton, great for cooler weather or when you need a durable skirt . Hook and eye waistband assures easy on and off and elastic back insures comfort.
Made of 100% cotton fabric and is machine washable.
Your choice of skirt lengths. Need something shorter or longer? Let us know!
Shown here with our Merchant Bodice and Petticoat.
This outfit is also available with embroidery as our Celtic Merchant Bodice and Celtic Merchant Overskirt.
Fancy Fabrics, like velveteen, are available by Special Order. Additional costs apply.