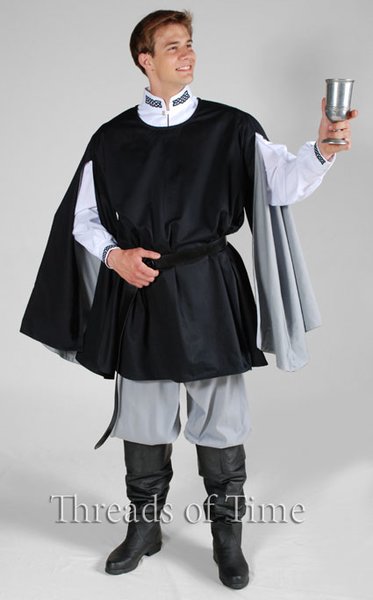 Made of durable twill, this piece is sure to cause a stir when you enter a room. To wear - just throw on and belt as shown. A very full cut garment, that is easy wear and care for. Meant to be worn over a shirt and belted as shown. The color of the sleeve liner comes standard in black (gray shown here for contrast).
Trim can also be added to the garment at the neck, sleeve split and hem - as shown below in the picture. Trim comes in metallic silver, or metallic gold.


Made of 100% cotton and is machine washable.
Comes standard in approx. 38" length.
Light color combinations and/or fancier fabrics available by Special Order for Weddings. Special Orders -may- result in additional costs. Shown below in Velveteen.
Historically accurate style to Medieval times - though fabric choices may not be accurate.
Worn here with our Celtic Royal Tunic, Basic Belt, Rogue Pants and Basic Boots.

For a embroidered version please view our Celtic Overtunic.
---