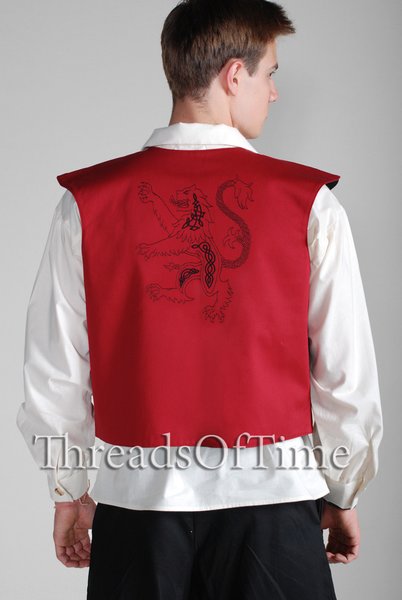 This versatile vest can be worn by just about any character type. An adventurous character with a desire for simplicity would love this vest. This timeless style has been around for ages, literally! Features a "hidden" pocket in the front seam and a stunning, large Rampant Lion outline embroidery on the back. The lion is very similar to the one on the Scottish National Flag, but with some knotwork on the body of the lion. This embroidery design is exclusive to Threads of Time, thanks to copywrited, original artwork by Eric Deans.

There are no closures to the front of this vest. This vest is fully reversible, effectively two vests in one! The non-embroidered "liner" side comes standard in black. Other color options for the "liner" side may be requested via email after ordering, please include your order number.


Made of 100% cotton and is machine washable.
Shown here in our Cardinal Red fabric and Black embroidery.
All seams are reinforced to withstand the occasional tavern brawl.
Shown here with our Highlander Shirt, Basic Pants and Basic Belt.
Available without embroidery as our Short Vest. Other embroidery options available as well.
Knife accessory is not included and not available.