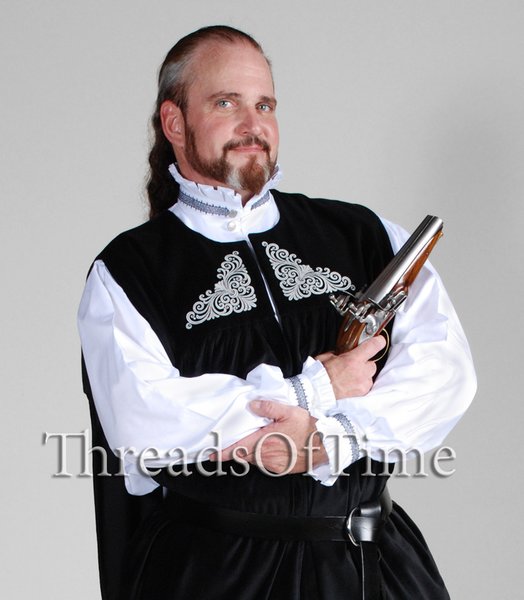 Our comfortable, yet formal Nobleman's shirt now has a historically accurate Blackwork embroidery design on cuff and collar. Blackwork embroidery was, of course, traditionally black, but we thought we'd offer other embroidery colors for variety. Perfect for under our Doublet, Nottingham Vest, or Castleton robe (shown here).

This shirt would be great for an upper class persona. It features a box pleat cuff and collar ruffle (pleated by hand). Every pleat at cuff and collar was folded by hand - approx. 1" wide box pleat pattern. We didn't 'cheat' by using pre-ruffled or pre-folded trims. Elegant enough for court wear, but with full sleeves for ease of movement in those spontaneous, dashing duels.


Made of 100% cotton materials and is machine washable.
Cuffs are standard 1 1/2" inches wide minus the ruffle.
Button or tie closures. Buttons shown here.
All shirts are standard 35" in length. If you'd like it shorter to tuck into pants, let us know.
We use period appropriate, metal shank buttons when the button option is chosen.
If a button cuff closure is chosen, silver tone metal buttons will be used.

Off White, Bronze or Gold

embroidery choices will get gold tone metal buttons, unless otherwise requested.

Shown here with our Castleton Robe and Basic Belt.
Sorry, gun not available. (and yes, we know not historically accurate to the time.)