Royal Tunic - Lords - ALL STYLES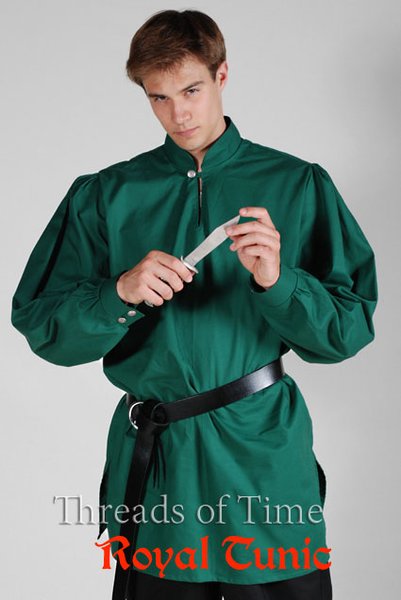 A casual, yet refined style. This comfortable tunic can encompass many time periods and personas. It can be worn tucked in or out and belted. A perfect style for under vests and doublets. There are several embroidery styles to choose from, or keep it versatile with no embroidery. It will look just as good at the Renaissance Fair or Scottish Highland Games, as it will a LARP or a nightclub.
Several Styles to Choose From: Plain, Celtic embroidery, Tribal embroidery, Warwick embroidery, Thistle embroidery or Ironworks embroidery.
The embroidery can be on just the cuff and collar, or just the sleeve or all three places.
______________________
All shirt are made of 100% cotton materials and are machine washable.
Cuffs are standard 2 inches wide.
All shirts are approx. 35" in length.
We use period appropriate, metal shank buttons when the button option is chosen.
If button closures are chosen, button color will complement the fabric color.
Shown here with our basic Leather Belt.
Sorry, but we don't make kilts. Kilts were provided by InaKilt.com .