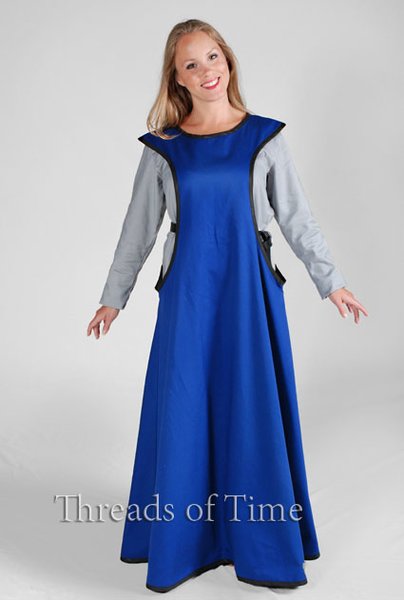 An Online Exclusive!!!! (we don't carry this item at shows)
A comfortable and easy to wear garment. The Sideless Surcoat is made of heavy cotton twill. Neckline and sides edges are covered in your choice of bias color. Perfect for SCA events or Medieval Festivals. Metallic Trim may be added for an additional cost.


Made of 100% cotton fabric and is machine washable.
Comes standard 54" in length.
Historically accurate style for Medieval times, thought fabric color options may not be.
Metallic trim, if added, would follow the bias edge; around neckline and sides. Trim is approx. 1" wide. Available in silver or gold for an additional $20. Picture or sample available on request.

Also looks good with our Angel Sleeve Kirtle.
Shown here with our Kirtle and Basic Belt.