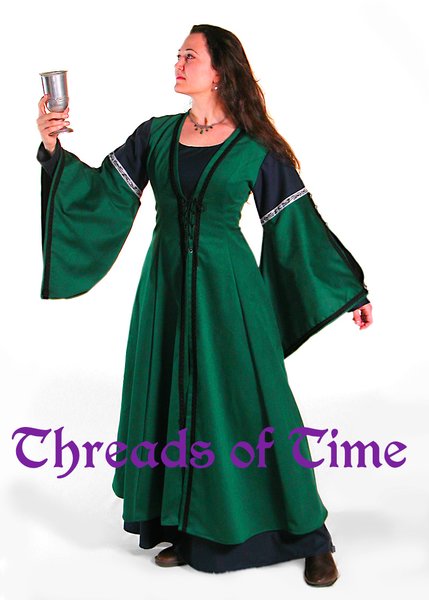 This stunning dress is both comfortable and attractive and you will be too when wearing it. It is our original design inspired by many Medieval dresses.

Made in cotton twill with front and back lacing at waist. Your choice of fabric colors for body and shoulders. Trims are standard black and black/grey.

The most special feature of the dress is the multi-option sleeves. You can wear them down as a full sleeve, or slip your arm through the slit and let it hang, or fold it back utilizing the buttons to keep the fold in place.

Due to the full split front of the dress you will need to wear a kirtle under it. Shown here with our Basic Kirtle in navy.



If you'd like fabric samples just drop us an email. Can also be made in a fabric you provide, inquire for more details. Lighter colors for Brides and Bridal parties are also available by Special Order.






Made of 100% cotton and is machine washable.

Other fabrics available by Special Order. Special Orders -may- result in additional charges.

Sulis is the British based Goddess of Wisdom.

Custom sizing is advisable for this item. To ensure a proper fit, please give us your

Measurements in the Special Instruction.

Also available without sleeves as the Bellacane, linked below.


Chainmaille necklace provided by Mardigan's Maile.com