Wench Chemise - Embroidered -Celtic, Thistle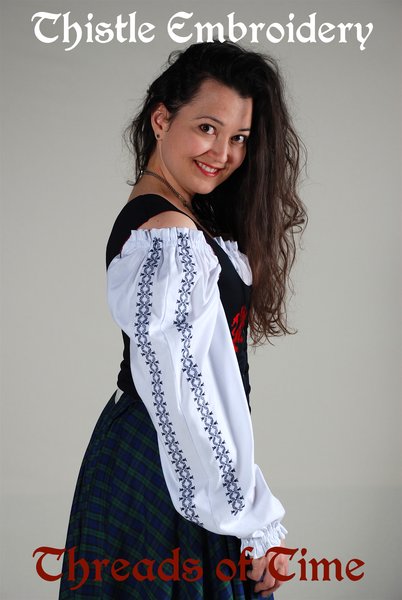 This is an essential historical garment, worn by just about every woman regardless of her station or class level. Our version has a small ruffle along the neckline and cuffs. This chemise can be worn on or off the shoulder. Our chemise is made out of a lightweight cotton fabric for comfort, coolness and washability. You can add lace to your chemise as well for an even fancier touch. Lace was historically always a sign of wealth.
Embroidery: There are multiple options for lovely Celtic knotwork or Thistle Blackwork embroidery. Featured on one of the chemises is our Blackwork Thistle embroidery pattern down the length of the arms. It adds a great touch to this basic garment. Historically Blackwork embroidery was traditionally black, but we thought we'd offer other embroidery colors for variety. Also available are two Celtic Knotwork patterns, as noted in pictures as Pattern A or Pattern B. Any of the patterns can be done on just the cuffs or down the length of the sleeve.
LACE OPTIONS:
LACE SLEEVE SLASH: A fancier chemise to be worn under your Bodice. Called our Merchant Chemise, there would be a slash of lace down the sleeve. Perfect for hot events. Embroidery would be on either side of the lace if sleeve embroider is chosen. Whenever possible we choose the softest lace available, but our choices may not be soft enough for some. Feel free to request a small sample of the lace, if desired. Lace patterns will vary.
LACE EDGE: It features a small delicate lace on the ruffle at the neck and sleeve edge. A nice feminine touch for an otherwise basic garment. Lace patterns will vary.
___________________________________________________________________________________________
Made of 100% cotton and is machine washable.
Elastic wrist and neckline is standard, but drawstrings are available as an alternative. Our quality level is indicated by the fact that we encase our elastic with fabric - we do NOT stitch the elastic directly onto the fabric.
Full length version is available for an additional $15. The full length version is a perfect compliment for under our Froca or for added layers under skirts. Historically, full length chemises also doubled as nightgowns.

Chainmaille necklace provided by Mardigan's Maile.com.

Our garments are not massed produced. Each one is hand made to your specifications here in the USA and our quality takes time. This means it will take 4 to 6 weeks to get your order to you. July through November orders may run over 8 weeks due to our show schedule. Occasionally we can manage rush orders or may have items in stock, please contact us before ordering. Thank you for taking this into consideration when placing your order.