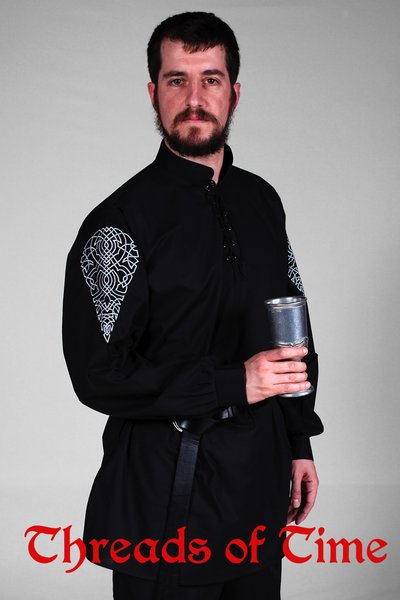 Featured on this tunic is our original Tribal Shield embroidery. Something very different and unique, based on Celtic Knotwork. The embroidery pattern is exclusive to Threads of Time, thanks to copywrited original artwork by Eric Deans. You will not find this pattern anywhere else.
Lacing closure shown here.
All shirts are standard 35" in length and cuffs are standard 2 inches wide.
Made of 100% cotton materials and is machine washable.
We use period appropriate, metal shank buttons when the button option is chosen.
If a button cuff closure is chosen, silver Celtic knotwork buttons will be used.

Off White, Bronze or Gold

embroidery choices will get gold Celtic Knotwork buttons, unless otherwise requested.

Shown here with our Leather Belt and Basic Pants.
Sorry, goblet not available.