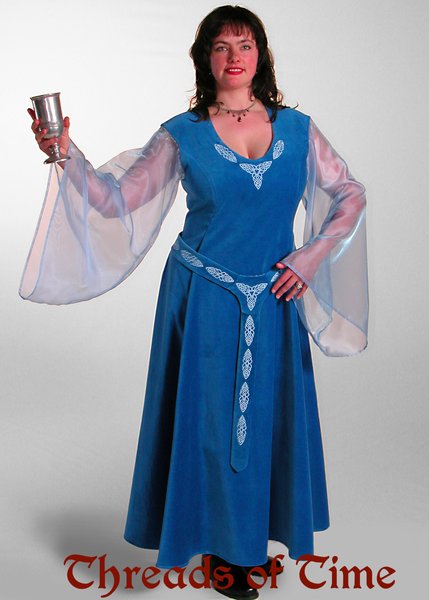 This phenomenal dress features original knotwork, exclusively designed for us by Eric Deans and G.Haigh. The body fabric is a soft cotton velveteen for beauty and comfort. The style of the dress is very flattering to many body types. There is lacing at the lower back for some adjustability. The belt is a separate piece, which laces in the back. The sheer sleeves will be made in close a color as we can get, or in a complimentary color to the embroidery. There are also multiple sleeve options. Please see below.
The embroidery comes in your choice of color, limited colors available for the velveteen. If you need to match a specific color please send us a sample of the color and we will come as close to it as we can. If you'd like fabric samples just drop us an email. Can also be made in a fabric you provide, inquire for more details. Lighter colors for Brides and Bridal parties are also available by Special Order.
Made of 100% cotton velveteen body and polyester sheer sleeves. Other fabrics available by Special Order.
Custom sizing is advisable for this item. To ensure a proper fit, please give us your Measurements in the Special Instruction.

Other knotwork styles available. Please view our Marion dress, Keely dress or our Celtic Lady's dress.
Chainmaille necklace provided by Mardigan's Maile.com
Other sleeve options are shown below.
SLEEVE OPTIONS: