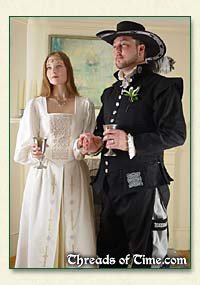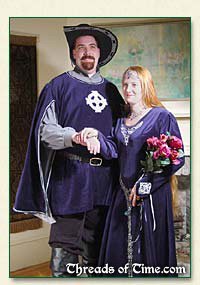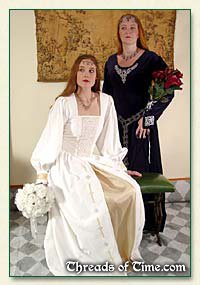 We will be more than happy to make your wedding day as special as you want it to be.
We ask you to review our Q and A section below to make sure you have thought of everything before contacting us. 

If you can provide us with a picture we can provide you with a price quote. If we have to design the garment for you there is a $20 hour design fee. We can work within almost any budget, but remember the old adage - "you get what you pay for". If you are looking for a low budget wedding I recommend a Medieval style wedding, if you have a larger budget I recommend Elizabethan or pure fantasy. If your budget is tight then I also recommend purchasing items directly from our on line store. If the garments are specially made "one of a kind" items and is not one of our stock pieces then the cost will go up considerably. Specialty "one of a kind" items require much more time, fabric shopping, planning and extra special care than our stock items do, thus the added costs. 

Matching a Color Theme
If you are concerned about matching a color theme for the wedding you can choose your own fabric and mail it to us, or you could send us color samples and allow us to match them. If purchasing your own fabric is not an option, we can search here for colors and mail you samples, for an additional fee. We keep in stock only the basics in cotton (white, black, off white, royal blue, burgundy, forest green and amethyst) and some velveteens. 

Embroidered and Hand-Screened Garments
Embroidery can be on any material and just about any color. However, color and fabric selection are somewhat limited for hand-screened garments. The fabric has to be a high contrast color compared to the ink - Such as, burgundy ink on off-white fabric. The fabric has to be either a cotton or a silk. 

Time Frame
The earlier the better... We need at least six months for a specialty order. If you are ordering from stock items via this Website, 4 months would be great. Occasionally we can do a rush order from stock items, but please contact us first before ordering.  

Policies: 
We will ask you to read, sign and return our Policy Pages. We will provide them via email prior to starting your orders. 


Wedding Q&A
So you are having a "non-traditional" wedding! 
Here are some things to take into consideration: 

In what season will your wedding take place?

Will it be Hot or Cold?
Will it be Indoor or Outdoor?
What is the budget for your outfit(s)?
How much are you able to spend per person in the party?
Will you be wearing this garment again to other events?
Do you want to be ostentatious or demure?
What time period are you looking for?
Such as: Elizabethan, Medieval, Renaissance, Fantasy/Romantic, Ethnic -i.e. Scottish or Irish?
How historically accurate do you want to be?
Are you going with a color theme?
Will you be available for fittings? ( not always necessary)
Do you have specific fabric choices in mind?
Such as: Cottons, Velvets, Silks, Satins or Tapestries?


Will you be providing fabric?
If so, Please:
Save your purchase receipt and send me a copy of the receipt.
Contact me for yardage amounts, which will differ depending on the width of your fabric, style choice and size.
Designate which garment(s) all fabric is for when shipping it to us.
Inform us if you wish the fabric scraps sent back to you.


More specific questions for those looking for Specialty Outfits:
Please, use the questions below as a question sheet to help you define what you want when you place your order. 

Brides and bridesmaids:

Are you going to be wearing a headpiece or belt with your outfit?
Do you want matching pouches/purses made as well?
Will you be wearing flats or heels?
What is your "character" like?
Such as: Princess, Wench or other?
What fabrics did you have in mind?
Such as: Cottons, Velvets, Silks, Satins or Tapestries?


Groom and Groomsmen:

Are you going to be wearing a headpiece or belt with your outfit?
Are you going to be wearing armor?
Such as: Chainmail or Platemail?
Will you be wearing these garments again?
Such as: Court or Combat?
What height of boot will you be wearing, thigh high, calf or ankle?
Will you be wearing a neck piece, ruffle, cravat, cowl or gorge?
What is your main color, accent color and trim color?
What is your "character" like?
Such as: rogue, nobleman or other?
What fabrics do you have in mind?
Such as: Cottons, Velvets, Silks, Satins or Tapestries?


For tops:
Shirts:
Are you going with a basic or upper class style?

Sleeve Style:
Color slash?
Full sleeve? not so full?
Parti color?

Will you be wearing a... ?
Vest?
Doublet?
Robe?
Surcoat?
Tabard?
Kirtle?
Houplenade?
Robe of State?
cape?
If your wearing a doublet.
Do you want the closure to be a button front, hook and eye front, clasps, lacing or frogs?
For accents on the doublet do you want epaulets, skirting, picadils, or nothing?
Will your doublet have a two tone body?
Will it have chevrons?
How about a solid body?
Will it have sleeves? If so what style of sleeve? 

Pant styles:
Will you be wearing... ?
Basic Style Pant?
Kilt?
Tights?
Slops?
Trews?
Doublet Pants?
Codpiece?
Do you want or need pockets?
How about belt loops?


Measurements:
You can find the measurements that we typically need on our Printable Measurements Page, which we can supply by email.  Please contact us first for specifics! Never take your measurements yourself. For greater accuracy have someone else take your measurements with a flexible measuring tape. If the garment doesn't fit because the measurements are wrong, we will have to charge you for alterations. 

If you have any questions call me at 978-531-1485. 

Robin & Marion, Tristan & Isold, Romantic Couples, Romantic Outfits, Live their legends in our wedding garments. 
This is only a smattering of the many weddings we have done. 

---
Ryan/Britner Wedding party and ring bearers.
---
Like Father, like son.
---
Mother-in-law's dress. Silk Dupioni and sheer organza fabrics.
---
Ms Barone's Wedding Dress, a slightly modified Maeve dress.
---
Ms Losciuto's Wedding Dress
---
Icie's Wedding Dress
---
Christina and baby Rose
---
Mr and Mrs Kelly Wedding
---
Mr and Mrs McClung (We made his outfit, but not her dress.)
---
---
A Vietnamese Ao Dai with pants, all in silk
---
Gillis Wedding
---
Nevada Spencer Wedding
---
Lubkowski Northrop Wedding
---
Gia Wedding
---
Sir Pyr's Wedding
---
Bradford Wedding
---
Renaissance Wedding
---
Black and Silver Couple
---
Pepi and Linda's Wedding
---
Colonial Wedding
_______________________________________________________________________________________________
Welcome to our Banner page!
If you do not find the answers to your questions here, please email us. 
We offer stock banner. Please check the Category pages to the left. 
---
Wedding Date Banner
This is truly a custom, one of a kind piece. Your names, wedding date and other embroidered designs on a hanging banner. Perfect for placement at the head table during the ceremony, then hang in your home as a reminder of your wonderful day.
The price of this banner will depend on a number of things as noted below.
FABRIC:
The first choice is fabric choice. It can be made in velvet, velveteen, cotton or poly cotton in solid colors. Or if you have a fabric you'd like to use, let me know. The more expensive the fabric (like the velvets), the more expensive the banner will be. 
FONT:
There are two choices of Fonts for the letters - Uncial and Old English. This will not affect the cost very much.
EMBROIDERY:
There are many choices for the embroidered designs for the sides, or it can be left off all together. We have a large selection of mythical animals, Celtic knots, and scroll work designs. Let me know what you are interested in, and we'll try to get you pictures. We do not currently have all images in digital form. The best and easiest way to choose embroidery for the banner would be to come see us at a show, or our showroom. The ornateness or simplicity of the embroidery design will effect the cost greatly.
TRIM:
The trim shown here is what we call a Fancy metallic scroll trim. We can either use that same trim for your banner, or use a different trim, or leave off the trim all together for a lower cost banner.
This Banner as shown:
The cost of the banner as you see it here is $185. It is one of our higher end banners. It is made of a dark green velvet, with detailed dragon and pegasus embroideries, fancy trim edges and hanging loops. The size of the banner is roughly 19" tall with hanging loops by 22" wide. We can do an extremely basic banner for approx. $85, on cotton twill fabric, Old English Font, no metallic trim and one small embroidery, size is approx. 18" wide by 26" long in a shield shape
THINGS TO NOTE:
Please contact us via email with specifics if you are interested in this item (use the categories above to help you). Each banner will vary widely on costs. We may have questions for you before we can begin work on it.


Hanging rod are not available. Please specify size (length and width) of your dowel/rod before we make your banner. 


Due to the extreme custom nature of this item, it is not returnable. 


These prices may change without notice.


We are often asked about Heraldic family crests on the banners. Yes, we can do them, but it will greatly increase the cost of the banner. We have to digitize your image of the crest, which starts at a base fee of $100, the more ornate your crest the higher that cost will go. This is a one time fee. We will be able to put that crest on anything else that we make for you (tabbards, shirts, smaller banners,etc). Then there is the cost of stitching out the crest every time we use it for you. That cost will vary depending on the number of stitches and colors in the design. Feel free to send us a digital image of your crest with your inquiry so we can give you a cost estimate.
---
Examples of Custom Works: