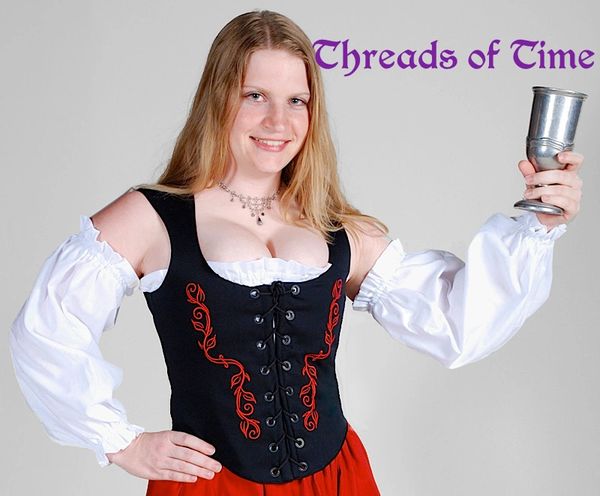 Same quality as our Wench Chemise, with a small ruffle along the bust line and cuffs. The twist is the arms are not connected to the body. Allows for greater freedom of movement, as well as being cooler. 


Made in 100% cotton and is machine washable. Tartan fabric is a poly/cotton and still machine washable. 
Also available are the "Open Cuff" option or "Drop Point Open Cuff". The "Open Cuff" sleeve tends to be shorter than the average sleeve length, and is open at the cuff for added ventilation. The "Drop Point Open Cuff" has an extended point on the underside of the sleeve, as shown on the tartan fabric picture. 
Elastic closures only, no drawstrings. Our quality level is indicated by the fact that we encase our elastic with fabric - we do NOT stitch the exposed elastic directly onto the fabric.
Full length version is available for an additional $15. The full length version is a perfect compliment for under our Froca or for added layers under skirts. Historically, full length chemises also doubled as nightgowns.
If you choose Tartan fabric, you will be contacted for your options. See our Tartan Circle Skirts for currently available tartans. 
Our garments are not massed produced. Each one is hand made to your specifications here in the USA and our quality takes time. This means it will take 4 to 6 weeks to get your order to you. July through November orders may run over 8 weeks due to our show schedule. Occasionally we can manage rush orders or may have items in stock, please contact us before ordering. Thank you for taking this into consideration when placing your order.