Bellacane - Non Embroidered with Options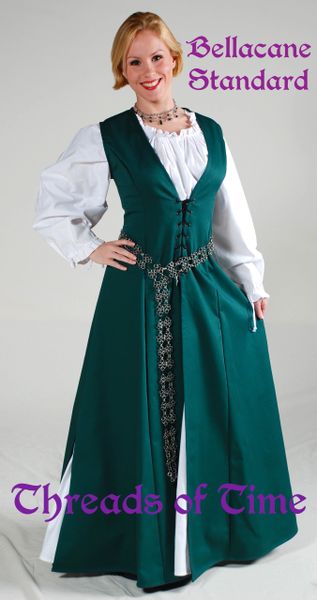 An EXTREMELY versatile dress. A tailored, over-vest styled dress that is easy to wear, very comfortable, and very flattering. It has lacing at the lower back for some adjustability and a lace-up closure front. 
The ways it can be worn are endless. It can be worn with a full-length Wench Chemise (as shown), or a Basic kirtle, which are our recommendations. Or it can also be worn with a corset and skirt if you want to keep your cleavage visible. Or LARPers can wear it with a chemise and tights - or on hot days a tank top and tights. Just about any way you'd like!!!  There are Length Options - Full length is shown on the green and purple dresses. The Knee (3/4) Length is shown on the black dress. The short option would come to just about mid-thigh, with not too much flare.
MORE INFO:
The price listed is for the plain, short version. Full length and other options are additional costs. 
Made of a 100% cotton twill and is machine washable.
Shown here with optional side slits. To add please choose the option above.
If adding Pockets as an Option - There will be a Visible stitch line on the side panel in order to secure the pocket. The pocket shape will be our standard deep style pocket. Large enough to hold a water bottle. 
For a very high-class outfit, please check out our Noble Bellacane.
Also great for pregnant ladies, because it should still fit after the pregnancy!!!

Need Custom Sizing? Just let us know. Most times there is no extra charge for minor adjustments.  Custom sizing is advisable for this item. To ensure a proper fit, please give us your measurements. Measuring chart and form can be provided via email. 

Chainmaille belt provided by MardigansMaile.com.

Would you like free color samples of the fabrics? We'd be happy to send you some, just email us your address. 

Sleeve options ( either sewn in or tie on - angel sleeves, fitted sleeves, cuffed sleeves, etc) are available as well, contact us for more details.
Our garments are not massed produced.  Each one is hand made to your specifications here in the USA and our quality takes time.  This means it will take 4 to 6 weeks to get your order to you.  July through November orders may run over 8 weeks due to our show schedule.   Occasionally we can manage rush orders or MAY have the item in stock, please contact us before ordering.  Thank you for taking this into consideration when placing your order.