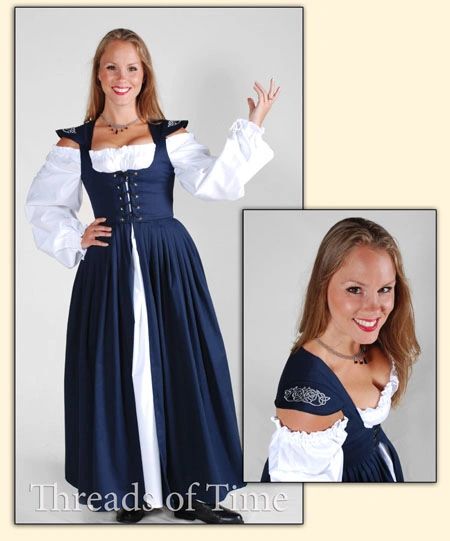 This is a very easy to wear garment. Basically, it is our skillfully constructed bodice with an firmly attached skirt, worn over a full length chemise. The upper bodice portion is built with the same sturdy construction as our standard bodices. There is boning by the lacing to stop unseemly bunching. Made of solid colored, heavy cotton twill for a durable and long lasting garment.
There is traditional Celtic knotwork embroidered on the epaulets. Which have the added feature of keeping your shoulders from getting sunburned! This garment is usually worn over a full length Wench Chemise. Our embroidered, full length, Celtic Wench Chemise makes a perfect match for this dress. For an added flair wear our Celtic Wench Belt over the Froca!
You can choose the length of the skirting as well. Measure as you would a regular skirt, from waist to desired length. 
If side lacing is added, the skirt will be split all the way to the hem.
Now made to be fully reversible, as well. Black is the standard reversed side for the bodice top, skirt color would stay the same color. 
Removable Sleeves are available. Pictures below. Sleeves would tie in under the epaulets. Sleeve options for the Celtic Froca renders it NON Reversible. 

Other versions of our Froca are available, please use the search button.
To ensure a properly fitted garment, please give us your measurements, in the Special Instructions. Or Forms can be provided via email.

Our garments are not massed produced.  Each one is hand made to your specifications here in the USA and our quality takes time.  This means it will take 4 to 6 weeks to get your order to you.  July through November orders may run over 8 weeks due to our show schedule.   Occasionally we can manage rush orders or MAY have the item in stock, please contact us before ordering.  Thank you for taking this into consideration when placing your order.