Noble Lady / Adventuress Shirt - all options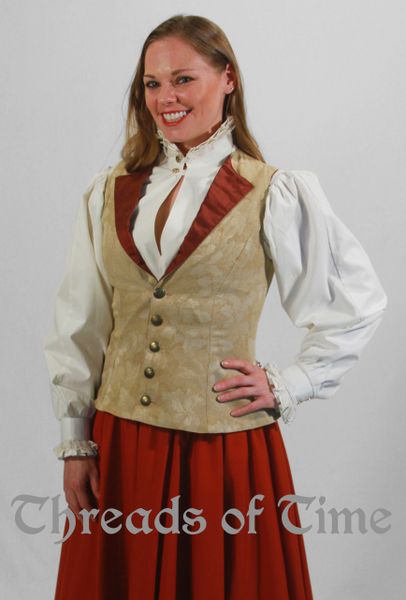 A historically accurate style shirt. It can be worn full length with a dress, or shirt length with a more formal Bodice/Vest and overskirt. It features a box pleat cuff and collar ruffle (pleated by hand).  Considered upper-class. Full cut sleeves show a high level of wealth. This shirt is elegant enough for court wear or High Tea. The "v" at the neckline is cut lower to allow cleavage to show, but can be made shorter by Special Request.  Great for Renaissance, Elizabethan, Scottish/Celtic or Steampunk events. 
Made of 100% cotton materials and is machine washable.
Every pleat at cuff and collar was folded by hand - approx. 1" wide box pleat pattern. We didn't 'cheat' by using pre-ruffled or pre-folded trims.
The gold vest shows the lace at the cuff and collar option. The lace overlays the box pleating. The lace slash option, would look the sleeves of our Merchant chemise. 
Cuffs are standard 1 1/2  inches wide.
All shirts are standard 28" in length.  Full length is approximately 54" long. 
We use period appropriate, metal shank buttons when the button option is chosen. 
Our garments are not massed produced.  
Each one is hand made to your specifications here in the USA and our quality takes time.
This means it will take 4 to 6 weeks to get your order to you.
July through November orders may run over 8 weeks due to our show schedule.
Occasionally we can manage rush orders or may have items in stock, please contact us before ordering.
  Thank you for taking this into consideration when placing your order.