Custom SCA or LARP Banners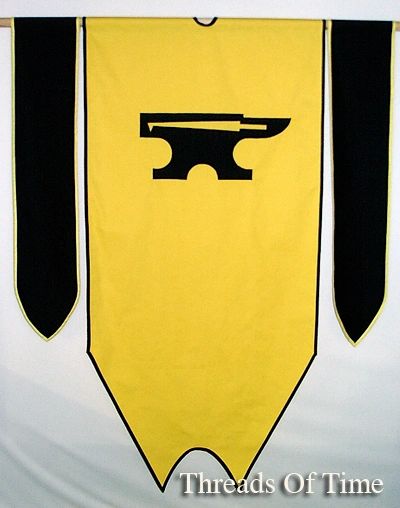 Custom Banner
This is truly a custom, one of a kind piece. Make for your group's icon, or heraldry. Please contact us for pricing on your Banner. Prices will vary greatly depending on ornateness and size of the Banner.

The price of these banners will depend on a number of things as noted below.
FABRIC:
The first choice is fabric choice. It can be made in velvet, velveteen, cotton or poly cotton in solid colors. Or if you have a fabric you'd like to use, let me know. The more expensive the fabric (like the velvets), the more expensive the banner will be.


Design:
The design work may be a mix of embroidery and appliqué work, depending on the complexity of your design. Size and shape of banner are also your choice.


EMBROIDERY:
We have a large selection of mythical animals, Celtic knots, and scroll work designs. Let me know what you are interested in, and we'll try to get you pictures. We do not currently have all images in digital form. The best and easiest way to choose embroidery for the banner would be to come see us at a show, or our showroom. The ornateness or simplicity of the embroidery design will effect the cost greatly.


TRIM:
Most banners are trimmed in bias. We can either use that same trim for your banner, or use a different trim, or leave off the trim all together.


THINGS TO NOTE:
Please contact us via email with specifics if you are interested in this item. Each banner will vary widely on costs. We may have questions for you before we can begin work on it.


Due to the extreme custom nature of this item, it is not returnable. We will endeavor to be as clear as possible in what you are receiving and make sure you are happy with the final product.


These prices may change without notice.


We are often asked about Heraldic family crests on the banners. Yes, we can do them, but it will greatly increase the cost of the banner. We have to digitize your image of the crest, which starts at a base fee of $100, the more ornate your crest the higher that cost will go. This is a one time fee. We will be able to put that crest on anything else that we make for you (tabbards, shirts, smaller banners,etc). Then there is the cost of stitching out the crest every time we use it for you. That cost will vary depending on the number of stitches and colors in the design. Feel free to send us a digital image of your crest with your inquiry so we can give you a cost estimate.
We also have stock banners available for purchase. They will be listed in this same category.