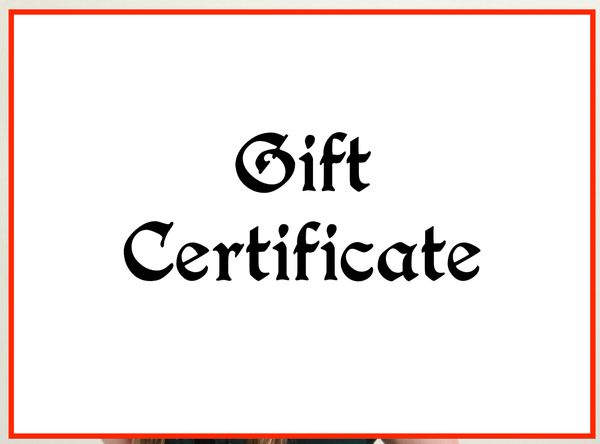 Need a Gift Certificate for a gift? We're more than happy to help. We can mail you a physical Gift Certificate for the recipient's use. 
Please choose your certificate in increments of $10. The final certificate will be for the chosen dollar amount. (i.e. Qty 6 at $10 each = a $60 Certificate)
If you'd like the Certificate sent to you, you don't need to do a thing. We send it by regular mail within a couple of days. 
If you'd like the Certificate sent to the recipient, please make sure to put their address in the Special Instructions section, or email it to us. 
A letter will be included that states the following:
If you wish to use this Online, please let us know and we'll generate a specific discount code for you to use. Use of that code will render the paper Gift Certificate as used, thus null and void. 
If you wish to use it at a event/show:
Please notify us at least 5 days PRIOR to the event to insure we bring the proper paperwork to that show.  Failure to confirm with us, may render the GC useless at that event.  Thank you for your understanding. 
After a purchase is made, if there is a balance on the Gift Certificate that equals more than $10 you will be issued a new Gift Certificate for that amount.  If it is under $10, but above $2, a refund check will be issued to recipient of Gift Certificate.   Gift Certificates /refunds cannot be issues at shows, so it will be mailed at a later time, if it was used at a show/event.  Gift Certificates cannot be redeemed for cash at any time. Also not valid on prior purchases or orders. 
Gift Certificates can be used at anytime at our showroom in Peabody, Ma. Please make an appointment to browse, as our hours are not set in stone.