Grendal - Sleeveless Tunic -Plain/Embroidered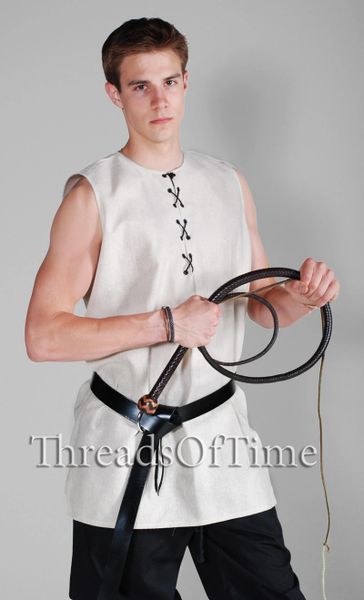 This sleeveless tunic is perfect for a peasant, fighter, or barbarian persona, or just for hot weather events.This garment also looks great with a Kilt. It features a deep '"v" front split, laced up with cording. (Cording is laced from the bottom up, the bow and ties have been tucked into the neck so you have a clear image.)  
The Embroidered version has stitching added to the neckline. It features a deep "v" front split with an original embroidery design that incorporates the cording into the Knotwork design of the closure. 
The other option is of a Linen / Cotton Blend fabric for a more period correct, rustic, homespun look. The colors are more muted for this fabric. If this option is chosen, we will contact you to confirm your color choice. 
The standard is made of 100% cotton materials and is machine washable

. The Linen / Cotton blend option is also machine washable.
All shirts are standard 35" in length.
Shown here in Off - White fabric. The embroidered version comes standard black embroidery, with your choice of colors for fabric. 
Shown here with our Basic Pants and Basic Belt.
Our garments are not massed produced.  
Each one is hand made to your specifications here in the USA and our quality takes time.
This means it will take 4 to 6 weeks to get your order to you.
July through November orders may run over 8 weeks due to our show schedule.
Occasionally we can manage rush orders or may have items in stock, please contact us before ordering.
  Thank you for taking this into consideration when placing your order.