Dagged Skirt - All Options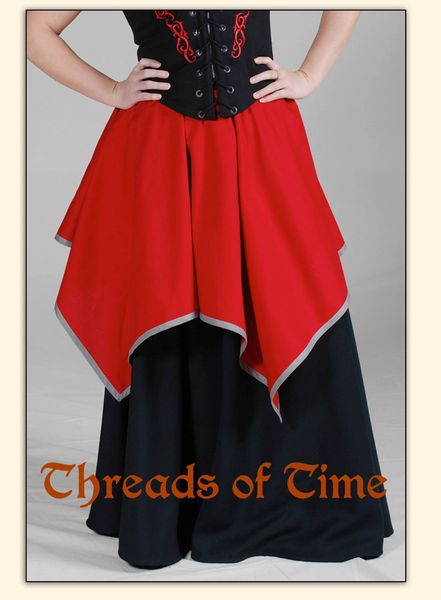 This pointed overskirt is a delightful accent garment.  It adds a fun, flirty flair to any outfit.  Please NOTE: Our model, wearing the red skirts, is on the Petite side. The skirt will not be that long on an average sized person. The skirt should fall to just about the knee.  The Purple skirt is closer to actual length.  
Plain Option - Made in cotton. Your choice of colors on Bias edges.
Celtic Option - The Celtic Version has square Celtic knotwork designs on the points. This garment is hand screened with a permanent fabric ink dye to produce the knotwork.  Ink colors are available only in White, Green or Black. We recommend the green only on the White, Off White or Yellow fabric colors.  Made in Cotton.
Lace Option - the skirt is all lace, other than the waistband. Lace patterns will vary. Fiber content will vary. Lace comes currently ONLY IN BLACK! There is NO BIAS on the edges of the lace skirt. 
Tartan Option -  You will be contacted with currently available tartan choices. Our Tartan circle skirt will have most of the currently available options for your viewing. This fabric is a poly/cotton blend.  NO BIAS on the edges. 
Plain skirt is made of 100% cotton. Tartan is a poly/cotton blend.
All fabric choices are machine washable.
This skirt is a "One Size Fits Most". If you have waist / hips over 70 inches in circumference, this garment will not fit you comfortably.
The waistband is black cotton drawstring only, no elastic.
Our garments are not massed produced.  
Each one is hand made to your specifications here in the USA and our quality takes time.
This means it will take 4 to 6 weeks to get your order to you.
July through November orders may run over 10 weeks due to our show schedule.
Occasionally we can manage rush orders or MAY have items in stock, please contact us before ordering.
  Thank you for taking this into consideration when placing your order.