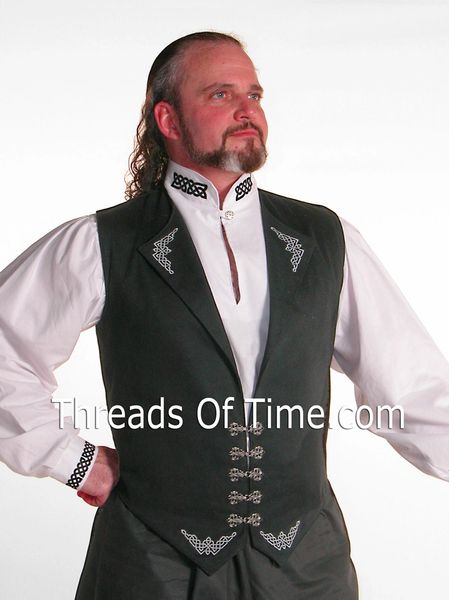 "The groom opened the package and was BLOWN AWAY!!!!
It is the most handsome vest we have ever seen and he is going to look sharp! Thanks Much!!!! " - Lisa McG. Lockport, IL
    This handsome vest features detailed knotwork embroidery on lower points and lapels. There are five clasps for closure, or you can choose knotwork buttons instead.  Back lacing provides minor waist adjustments. Looks just as sharp with pants as it does with a kilt. This versatile vest is an outstanding choice for weddings or other special events. Available in your choice of color combinations. We named this garment after the lovely city in Scotland.  Please note: the clasps will come up a little higher towards the chest than those in the stock photo. 
Made of 100% cotton twill and is machine washable.

Clasps come in gold or silver.  If a button closure is chosen, silver-tone Celtic Knotwork metal buttons will be used. Off White, Bronze, or Gold embroidery choices will get gold tone Celtic Knotwork metal buttons or clasps, unless otherwise requested.

Also available in a non embroidered version called the Gent's Vest.
Two-color vests (the lapels are a different color) are available through Special Order.

Our garments are not massed produced.  

Each one is hand made to your specifications here in the USA and our quality takes time.

 

 

This means it will take 4 to 6 weeks to get your order to you.

 

 

July through November orders may run over 8 weeks due to our show schedule.

 

 

 

Occasionally we can manage rush orders or may have items in stock, please contact us before ordering.

  Thank you for taking this into consideration when placing your order.



Back Lacing Close Up View: