Kirtle - Basic / Angel Sleeves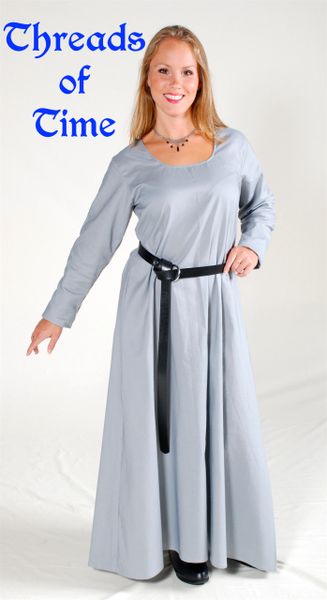 An Online Exclusive!!!! (we don't usually carry this item at shows)
A full-length dress with straight sleeves and a scoop neck. Made of washable shirt weight cotton and meant to be worn belted as shown. Historically accurate style. Perfect for SCA events or Medieval Festivals. Trims may be added for an additional cost, please inquire for options. 
The Angel Sleeves  -- The quality of our garment is shown in the Angel Sleeves. The interior sleeve seam is a felled seam, so there are no serged seams or raw edges visible in the interior bell of the sleeve.


Made of 100% cotton fabric and is machine washable. Can be made in our Cotton/Linen blend for $68 - please inquire first.
Comes approx. 54" to 56" in length.  Longer lengths are available by Special Order.
A historically accurate style for Medieval times, though fabric color options may not be.
Trim Options, if added, would be placed around the neck and sleeve cuffs or hem, your choice. Trim is approx. 1" wide. Pictures or samples available on request. 

Looks great with our Sundresses, Bellacane, Over Vest, or Sideless Surcoat.
Would you like free color samples of the fabrics? We'd be happy to send you some, just email us your address. 
Need Custom Sizing
? Just let us know. Most times there is no extra charge for minor adjustments.
Our garments are not massed produced.  
Each one is hand made to your specifications here in the USA and our quality takes time.
This means it will take 4 to 6 weeks to get your order to you.
July through November orders may run over 10 weeks due to our show schedule.
Occasionally we can manage rush orders or may have items in stock, please contact us before ordering.
  Thank you for taking this into consideration when placing your order.