Crownguard Tunic - Ladies - ALL STYLES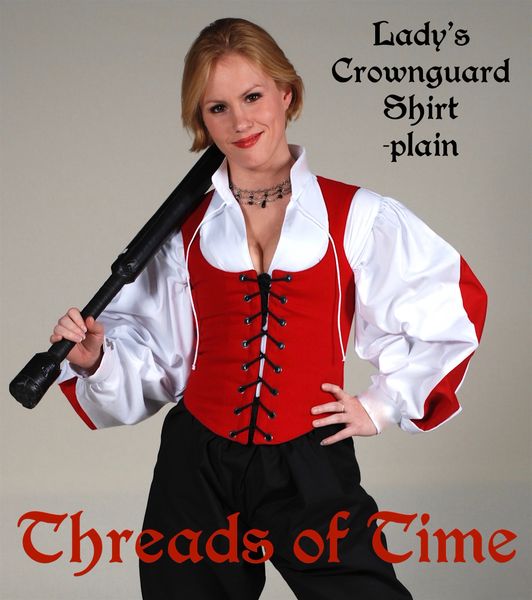 This stylish shirt is similar to our Lord's Celtic Crownguard Tunic, but cut for the female figure. This tunic will look just as good at the Renaissance Fair or Scottish Highland Games, as it will a LARP or a nightclub. This tunic looks great alone and belted, or with a bodice / vest. If you desire embroidery, this versatile shirt has many options for placement of the embroidery.  You can have it on just the cuff and collars, or just running down the length of the sleeves, or all three places. 
You can keep the sleeve solid, or you can have the slash in a lace fabric for extra ventilation or fanciness. 
You can also chose how deep the V at the neck goes.  Deep for cleavage exposure when wearing Bodices, or Normal for a bit more modesty. 
    EMBROIDERY OPTIONS: 
    --Our Tudor Rose shirt features our Renaissance Blackwork Tudor Rose embroidery. It adds a romantic touch to this comfortable, easy to wear garment. Blackwork embroidery was traditionally black, but we thought we'd offer other embroidery colors for variety.
    --Our Fleur Blackwork shirt features our historical Renaissance Blackwork Fleur embroidery. 

    --Our Thistle embroidery is also a Blackwork design, good for Renaissance Festivals, and perfect for Celtic or Scottish Festivals. 

    --Our Tribal embroidery is a fun modern embroidery, great for LARPing or fantasy events. May be passable at a Renaissance Faire, depending on the Faire. 

    --Our Celtic embroidery is an actual historical design. Works great at Celtic or Scottish Festivals, Renaissance Faires or just about anywhere.
    --Our Ironworks embroidery is a pattern influenced by the tops of wrought iron fences. Works great at Renaissance Faires, LARPs or anywhere. 

Made of 100% cotton materials and is machine washable.
Sleeve color slash will match embroidery color choice. Lace comes only in white, off white or black. 
Cuffs are standard 2 inches wide.
All shirts are standard 28" in length.
If button closures are chosen, button color will complement the chosen colors, unless otherwise requested.
Full length version is available for an additional $15. The full length version is a perfect compliment for under our Froca, Bellacane or for added layers under skirts and bodice.
Chainmaille necklace provided by MardigansMaile.com.
Our garments are not massed produced.  Each one is hand made to your specifications here in the USA and our quality takes time.  This means it will take 4 to 6 weeks to get your order to you.  July through November orders may run over 10 weeks due to our show schedule.   Occasionally we can manage rush orders or may have items in stock, please contact us before ordering.  Thank you for taking this into consideration when placing your order.