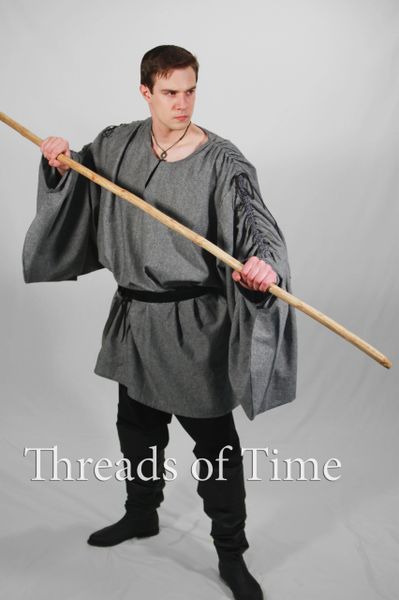 An extremely full cut shirt with a "V" neck with ties. Historically accurate style.  The full cut, drop sleeves doubled as pockets. The gather-able drawstring sleeves tie at the shoulders for adjustable sleeve length.  Sleeves have the option of non metallic knotwork trim down the length of the sleeve at at the cuff.  

Made in 100% cotton and is machine washable. 
Standard tie neck closure.
Available in linen for a more historical look. Please inquire for available colors. 
One size fits up to 60" chest/waist, approx. 38" length. Larger sizing available, may result in additional costs. 
Shown here with our basic belt.
Add a foot to the length for an additional $10, to make the length approx 48" long.

Our garments are not massed produced.  

Each one is hand made to your specifications here in the USA and our quality takes time.

 

 

This means it will take 4 to 6 weeks to get your order to you.

 

 

July through November orders may run over 8 weeks due to our show schedule.

 

 

 

Occasionally we can manage rush orders or may have items in stock, please contact us before ordering.

  Thank you for taking this into consideration when placing your order.