Nottingham Vest - all options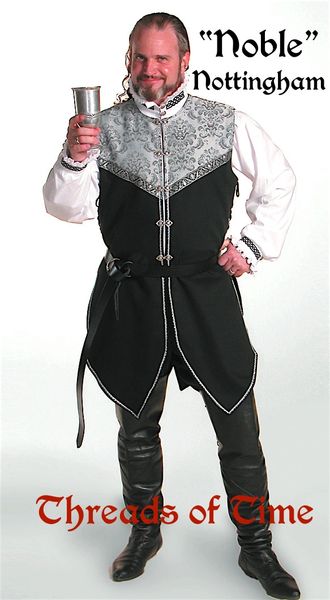 The perfect outfit for exertion or relaxation, court or combat.  Side lacing allows for full movement and adjustability. It is made of a washable cotton twill.  We will contact you after ordering to show you available trim options.  Front clasp closure adds class to this noble garment. 
Standard Nottingham: This garment comes as shown - with twill fabric shoulders and body. Trim at the bottom of the shoulder panels and the hem. You will be contacted with current trim options, after placing the order. 
Embroidered Nottingham: Made with twill shoulders and body, with embroidery at the shoulder panels front and back. Deluxe version has embroidered panels at the hem - NOT standard for the regular embroidered version (there are no hem panels for the non deluxe version.)  Available with the same embroidery options as our Royal and Crownguard Tunics - Celtic, Warwick, Ironworks, and Tribal. 
Noble Nottingham - Brocade Shoulder Options:  The brocade shoulders make for a fancier version, perfect for Weddings, Court or other formal events. Brocade fabric and trim patterns may vary. Accent Color refers to the Brocade fabric and the trim at the bottom of the Brocade. Silver Accent choice will receive gray tone brocade shoulders and bordered with silver metallic trim as shown at edge of brocade. Gold Accent will receive golden tone brocade shoulders and gold metallic border trim. Shown here with the additional Edge Trim Option in silver around the edges of the garment. Trim on the edges is NOT standard.  The trim at the bottom of the brocade IS standard. The edge trim is a narrow loopy metallic trim.   Because of the brocade fabric shoulders this garment is Dry Clean ONLY!  Silver brocade shown in pictures is no longer available. If concerned about fabric/trim pattern style, please contact us and we will email you pictures.  Clasp closures will match color chosen for Accent Color.
_____________________________________________________________________________________________
Our garments are not massed produced.  

Each one is hand made to your specifications here in the USA and our quality takes time.

 

 

This means it will take 4 to 6 weeks to get your order to you.

 

 

July through November orders may run over 8 to 12 weeks due to our show schedules.

 

 

 

Occasionally we can manage rush orders or may have items in stock, please contact us before ordering.

  Thank you for taking this into consideration when placing your order.