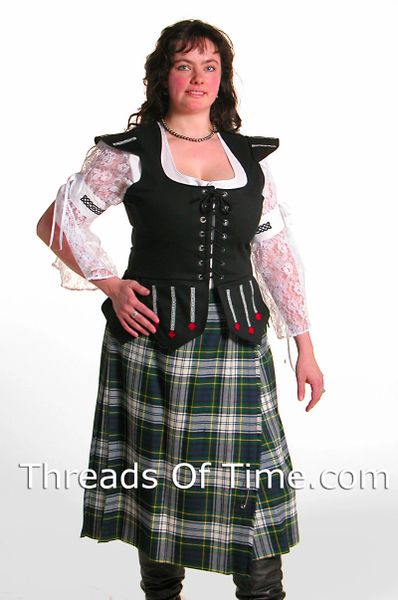 The influence for this bodice is the Scottish Mens military coat, but instead of ribbon and buttons on the peplums, we have done a very fine embroidery work in Celtic knotwork. This bodice is made of a heavy cotton twill.  The shoulder epaulets also help keep shoulders from getting sunburned!  A comfortable piece that also looks fantastic with a kilt. It can be made either one of two ways. As a wench bodice style with boning and lacing (shown here), or for a dressier look clasps can be chosen for more of a vest fit. 

Our bodices are a period garment that provides lift and support, without the confining full boning of a corset, if the lacing option is chosen. They help to create that much sought after hourglass figure and are staple item to add to any wardrobe.  Liner side comes standard in black. Different liner color options may be requested after ordering.   As with all our bodices, it is made of heavy, washable cotton twill. There is boning next to the lacing to avoid unseemly bunching. Our seams won't split and our grommets won't give out. All seams are reinforced to withstand the rigors of wenching.  If clasps are chosen, for a vest fit, there will be no boning in the front.  Clasp are a gunmetal in color, other colors may be chosen by Custom Order. 
    Can be made with or without the piping option. The model is wearing one without piping. The close-up pictures shows the piping. Piping is an additional cost.  Piping will match color chosen for the diamonds.

You can choose the embroidery color for the diamond embroidery. The fabric comes standard in black. The embroidered rectangles come standard in light gray/silver.

Made of 100% cotton and is machine washable.

For a fancier, high dress look, velveteen is available by Special Order. Please contact us for more details.

Shown here with our Fiona Shirt. 
To ensure a properly fitted garment, please give us your

Measurements in Special Instructions. Measuring chart and form available via email.




Our garments are not massed produced.  

Each one is hand made to your specifications here in the USA and our quality takes time.

 

 

This means it will take 4 to 6 weeks to get your order to you.

 

 

July through November orders may run over 10+ weeks due to our show schedule.

 

 

 

Occasionally we can manage rush orders or may have items in stock, please contact us before ordering.

  Thank you for taking this into consideration when placing your order.