Pixie Cowl - Reversible - 2 colors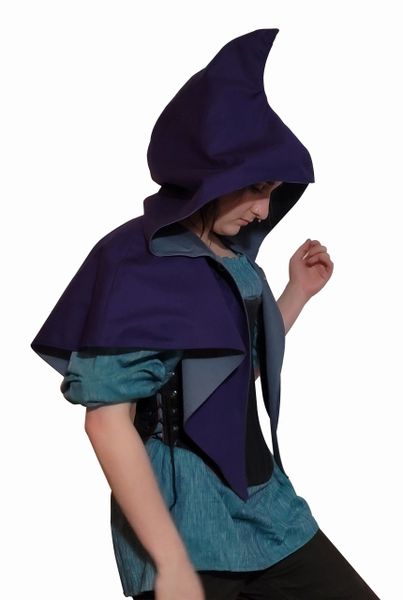 How fun are these cowls??? Perfect for any Fey, Puck, Imp, or Fairy!! Let your Imagination play with this fun hood! 
Our Cowls are great for those slightly rainy, but too warm for your cloak days.  This basic garment is not so basic when it is made by us. We strive for quality and extreme durability in our cowls. Our hood is articulated so it sits forward on the top of the head, but curves on the sides for better visibility. The shoulder seams are felled seamed (like the inside seam on a pair of Levis jeans) for durability.  Felled seams also lay flat against the shoulder, and there are no unsightly, exposed serged seams that may catch on things you are wearing under the cowl. 
Wing split/slits: We can totally add any adjustments you may need for wings or other adaptations. We will need more details on how you wear your wings and sizing and such so we can best accommodate your needs. You will be contacted after placing an order for more info.

We offer this fully reversible version, a simpler version with a color edging, or a fancy scalloped edge Cowl. See our Cloak and Cowls category for the other styles.