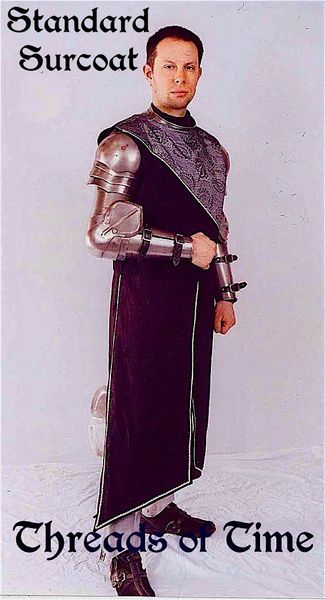 An Online Exclusive!!!! (we do not carry this item at shows)

Feel like a crusader in our surcoats, but courtly with the ladies. Fully lined, with the lower half split sides,front and back from the waist down. Pull on style with side lacings. Can be made Dress Standard (good for weddings or stage) or Combat Standard (made with all seams double reinforced for an additional $20). Made of heavy cotton twill, brocade upper panel and small trim. Fabric patterns and trims may vary. You will be contacted to make sure you like the current choices. Fully reversable to a standard all black side.  Measurements would help for a more accurate fit.  Side lacing for easy size adjustment.  Grommets come standard black with black cording.  Great for LARPing, SCA or Knightly Combat. Historically accurate style.

This is a very customizable item.  We suggest contacting us before ordering to insure your needs are met.   We can do custom embroideries like Coats of Arms on the chest of this garment, as well as other options. Some Custom work examples are shown. Some are appliqué and some have embroidery as well. Pricing will vary greatly depend on design and needs. 
Our garments are not massed produced.  Each one is hand made to your specifications here in the USA and our quality takes time.  This means it will take 4 to 6 weeks to get your order to you.  July through November orders may run over 8 weeks due to our show schedule.   Occasionally we can manage rush orders or may have items in stock, please contact us before ordering.  Thank you for taking this into consideration when placing your order.