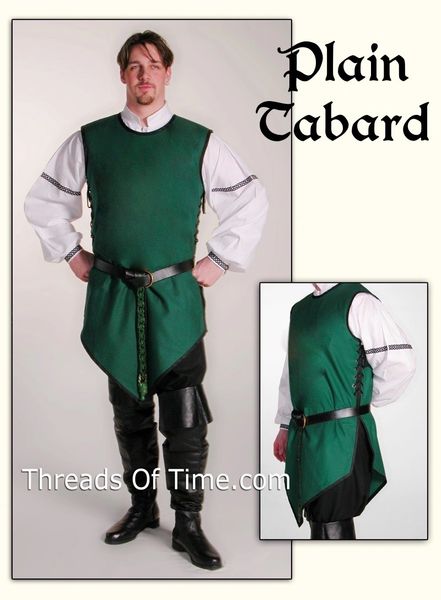 An Online Exclusive!!!! (we do not carry this item at shows)
The price for this garment is listed as the base price. $45 is for a plain Tabard, no embroidery!  Made of two colors - main fabric color and trim color. Side lacing for easy size adjustment.  Grommets come standard black with black cording.  Great for LARPing or Knightly Combat. 
This is a highly customizable garment.  Costs will vary. We suggest contacting us before ordering to insure your needs are met.   We can do custom embroideries like Coats of Arms on the chest of this garment, as well as other options.  Can be made parti-colored, or fully lined so it is reversible. Can have open sides with no lacing. Or a large variety of other options.  Please contact us. 
Our garments are not massed produced.  Each one is hand made to your specifications here in the USA and our quality takes time.  This means it will take 4 to 6 weeks to get your order to you.  July through November orders may run over 8 weeks due to our show schedule.   Occasionally we can manage rush orders or may have items in stock, please contact us before ordering.  Thank you for taking this into consideration when placing your order.