UV Protecting / Moisture Wicking Chemise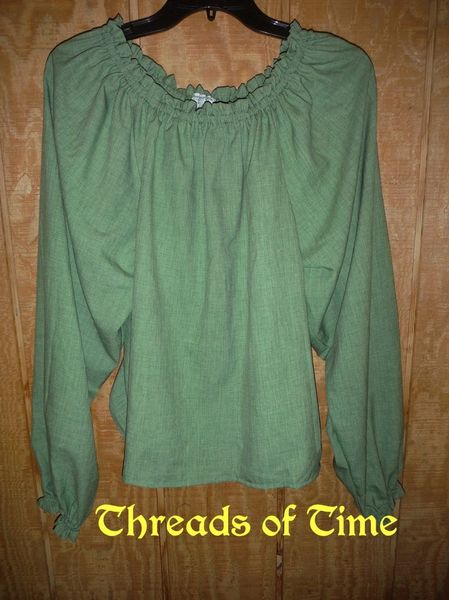 This chemise is made out of a Moisture Wicking and UV protecting fabric. It has a tested and certified SPF of 40. It is polyester, but a very lightweight polyester that is very breathable! The fabric also has a homespun fabric look to it - so it looks a little like linen. (not actually nubby, just looks like it).  More colors will be available soon. (Blue shown is currently out of stock).  Perfect for any Renaissance Faire, SCA event, LARP or other outdoor event!  Super comfy and protecting!! Our version has a small ruffle along the neckline and cuffs.  This chemise can be worn on or off the shoulder.  
Elastic wrist and neckline is standard, but drawstrings are available as an alternative. Our quality level is indicated by the fact that we encase our elastic with fabric - we do NOT stitch the exposed elastic directly onto the fabric.
Full length version is available for an additional $15. The full length version is a perfect compliment for under our Froca or for added layers under skirts. Historically, full length chemises also doubled as nightgowns.
Our garments are not massed produced.  Each one is hand made to your specifications here in the USA and our quality takes time.  This means it will take 4 to 6 weeks to get your order to you.  July through November orders may run over 10 weeks due to our show schedule.   Occasionally we can manage rush orders or MAY have items in stock, please contact us before ordering.  Thank you for taking this into consideration when placing your order.