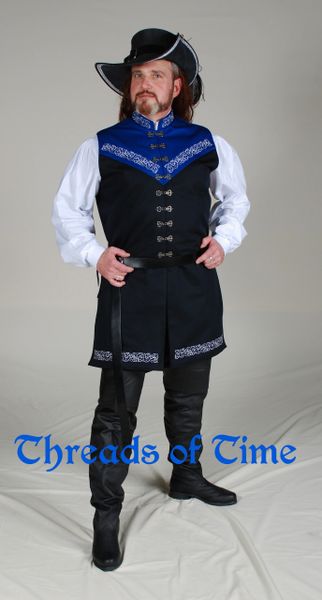 This dashing, coat style garment is perfect for the gentleman lord. It is an outstanding choice for weddings, other special events, or if a Lord simply wants to look his best. It features embroidered scrollwork bands on the collar, chest, back and on the hem in the front only. Closes with clasps for a historic touch. There are splits from the waist down on the sides and in back for ease of movement. The side seams are solid, no side lacings, so measurements would be recommended.  Or choose the side lacing option above for more adjustability.  The side lacing has a panel behind it so your shirt won't show through.  Available in your choice of color combinations. 
Made of 100% cotton and is machine washable.
Body comes standard black. Fabric Color Option is for shoulder panels.
Sleeve options are available, they are an additional cost. Sleeve are attached, NOT tie on style. 
Shown here with our Royal tunic, Basic pants, Cavalier hat, Basic Belt and Leather Boots. Our Warwick Crownguard Tunic is the perfect shirt for this outfit. 
Measurement chart and form available via email.
Also available in a knotwork embroidered version we call the Castle Coat.

Our garments are not massed produced.  

Each one is hand made to your specifications here in the USA and our quality takes time.

 

 

This means it will take 4 to 6 weeks to get your order to you.

 

 

July through November orders may run over 8 weeks due to our show schedule.

 

 

 

Occasionally we can manage rush orders or may have items in stock, please contact us before ordering.

  Thank you for taking this into consideration when placing your order.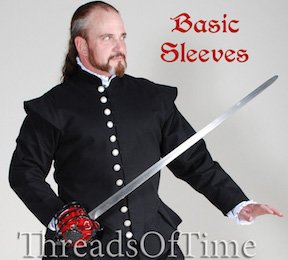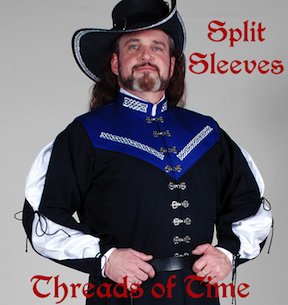 ---
Below is a variation with a color band at the hem. Available by Custom Order only.