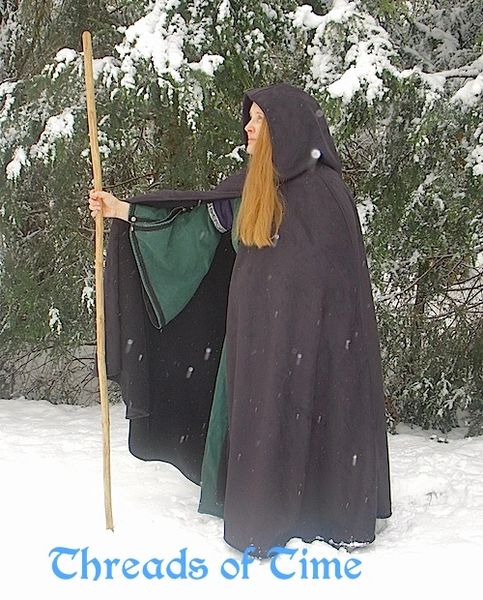 The fabric of this garment has to be felt to understand the true loveliness of this cloak. It has fleece on one side and pseudo suede on the other. A truly comfy, cozy cloak. It has kept even the most prone to cold customer we know, toasty warm. If you haven't felt the fabric yet, let us know and we will send you a small sample of it by mail. 
Can also be used as a throw blanket on the couch!! Dual purpose - how great is that?
About our Cloaks:
We strive for quality and extreme durability in our cloaks. Our hood is articulated so it sits forward to the top of the head, but curves on the sides for better visibility. The hood also has a historically accurate tail at the back of the hood. On the body, the side seams are Felled seamed (like the inseam on a pair of Levis jeans) for durability and so they lay flat against the shoulder, also when it flares open you do not have unsightly serged seams exposed. 
It is also machine washable! 
Comes in the brown/cream combo only. The black has been discontinued by the fabric manufacturer. 
Length of cloak is approximately 53 inches. Sorry, longer lengths not possible due to the width of the fabric.
Your choice of silver or bronze metal clasps. (Clasps styles may vary.) 
THIS ITEM MAY BE IN STOCK. PLEASE EMAIL US.
Our garments are not massed produced.  
Each one is hand made to your specifications here in the USA and our quality takes time.
This means it will take 4 to 6 weeks to get your order to you.
July through November orders may run over 10 weeks or more due to our show schedule.
Occasionally we can manage rush orders or may have items in stock, please contact us before ordering.
  Thank you for taking this into consideration when placing your order.