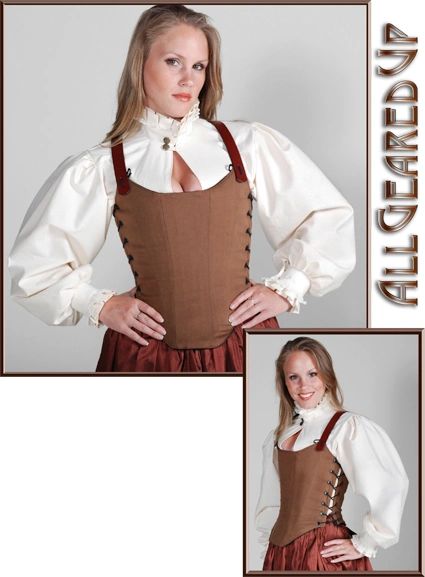 Our Demi-Bodice is fancy enough for any social outing, even if that outing turns into an adventure!! It will keep the girls in place, even if you have to run for it!! 
This garment is as close as we come to a corset, but it is not quite a corset. You get the same look, but without so much squish. It is boned on the front and back and by the side lacings to prevent bunching. It is fully lined and reversible. Liner come standard in black. Made in 100% cotton, it is also machine washable. The fabric is a velvety to the touch, brushed twill fabric. 
The removable shoulder straps can be made of either the same fabric as the demi-bodice, or out of leather, as seen here. Please choose your option above. 
To ensure a properly fitted garment, please give us your Measurements in the Special Instructions. Measuring chart and form can be sent via email.
Brown twill fabric is shown here.
This garment can be made of fabric you provide, please contact us for more details.
Grommets come standard in black. Silver or gold grommets may be requested by Special Order. 
Shown here with our Adventuress Shirt and Adventuress Skirt.
Our garments are not massed produced.  Each one is hand made to your specifications here in the USA and our quality takes time.  This means it will take 4 to 6 weeks to get your order to you.  July through November orders may run over 8 weeks due to our show schedule.   Occasionally we can manage rush orders or may have items in stock, please contact us before ordering.  Thank you for taking this into consideration when placing your order.