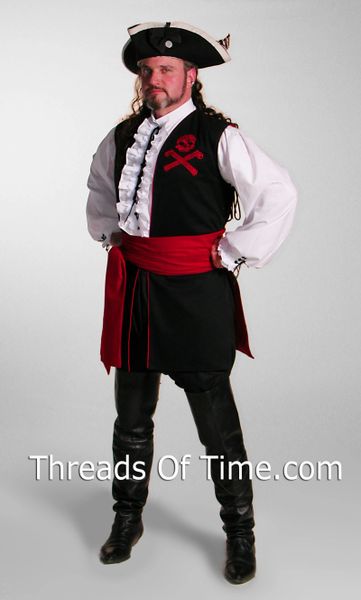 This Long Vest features a Skull and Crossbones Knotwork embroidery pattern on the chest. This embroidery design is exclusive to Threads of Time, thanks to copywrited, original artwork by Eric Deans.  Tis is a very comfortable, easy to wear garment. 
Order the sash as well to compliment the embroidery color. 
Also shown is pipping down the front - This is NOT standard, but available as an option.  Piping will match embroidery color, unless otherwise requested. 

Our Long Vest is extremely versatile and encompasses many time periods. The Long Vest comes standard with side lacing, shown in the picture of the brown vest. There are no closures to the front of this vest, it can be worn slightly over lapped or open, to your taste. And it is fully reversible, effectively two vests in one!! The non-embroidered "liner" side comes standard in black. Other color options for the "liner" side may be requested via email after ordering, please include your order number. 


Made of 100% cotton and is machine washable.
Comes standard 35" in length.
Shown here with Optional Sash, Optional Piping, our Captain's Shirt (no longer available), Basic pants, Leather Boots and Basic Belt.
Available without embroidery as our Long Vest. Or with other embroideries as well, please use the Search Option. 
Sorry, hat not available. 
Our garments are not massed produced.  
Each one is hand made to your specifications here in the USA and our quality takes time.
This means it will take 4 to 6 weeks to get your order to you.
July through November orders may run over 8 weeks due to our show schedule.
Occasionally we can manage rush orders or MAY have the item in stock, please contact us before ordering.
  Thank you for taking this into consideration when placing your order.