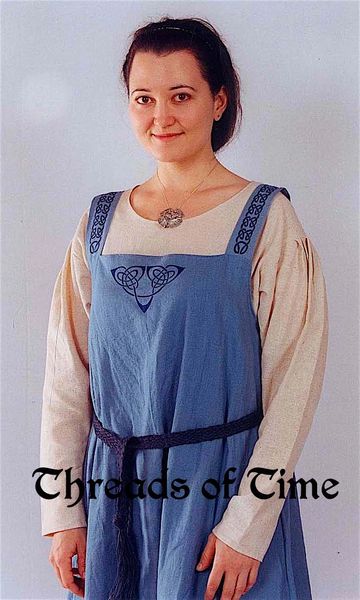 So useful!! 
This is one of the most versatile and comfortable garments we've ever made! This historically based Viking garment can be worn with a kirtle, or pants and a long sleeve tunic for a period look. For modern day wear, it can be worn with a turtleneck to work, or casually as a comfy sundress. It features Celtic knot on the front. This garment is hand screened with a permanent fabric ink dye to produce the knotwork. Dress has matching fabric ties at the waist, which can be tied to the front or the back depending on your preference. Rope Belt shown here, but no longer available.  This dress has a short side split for ease of movement.  Perfect for SCA events, Medieval festivals and summer Highland games. 
Made of 100% cotton fabric and is machine washable.
Also available in a cotton/linen blend for an added cost. Please inquire for more details. 
Historically accurate style for Medieval times. 

Some color options may not be historically accurate.
Looks great with our basic Kirtle.
Another style is our Celtic Sundress.
Our garments are not massed produced.  Each one is hand made to your specifications here in the USA and our quality takes time.  This means it will take 4 to 6 weeks to get your order to you.  July through November orders may run over 8 weeks due to our show schedule.   Occasionally we can manage rush orders or may have items in stock, please contact us before ordering.  Thank you for taking this into consideration when placing your order.