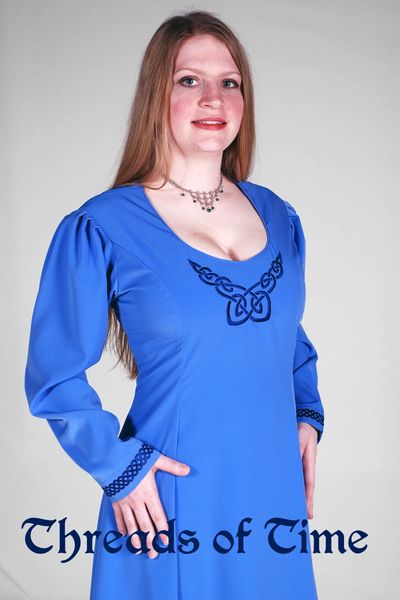 A most elegant variation of the traditional kirtle, but with a more tailored fit. The embroidery provides a much richer texture and look to the dress. An eye catching garment for those special occasions. It is a slip-on style with lacing at the lower back for ease of wear and comfort. Available in your choice of colors. Inquire if you need to match a specific color like in a tartan. There are also multiple sleeve options, please see below. This style makes great bridesmaid dresses, or an informal wedding dress. Lighter colors or specific colors for Brides / Bridal parties are also available by Special Order. 
Currently available only in a cotton shirt weight fabric. It can be Special Ordered in a cotton velveteen fabric or rayon fabric for a more formal look. Some of the cotton colors may not be available in the velveteen, please inquire for available colors. The cotton velveteen has a soft look and texture to it, while still being machine washable.  If you'd like fabric samples just drop us an email. 
MORE INFO:
Custom sizing is advisable for this item. To ensure a proper fit, please give us your measurements.  Measuring chart and form can be sent via email. 

Made of 100% cotton. Other fabrics available by Special Order.  Special Orders -may- result in additional charges. Or provide us with fabric.  Would you like free color samples of the fabrics? We'd be happy to send you some, just email us your address. 
Other knotwork styles available. Please view our Marion dress, Keely dress or our Vivian dress.
Chainmaille necklace provided by Mardigan's Maile.com
Need Custom Sizing? Just let us know. Most times there is no extra charge for minor adjustments.
Our garments are not massed produced.  Each one is hand made to your specifications here in the USA and our quality takes time.  This means it will take 4 to 6 weeks to get your order to you.  July through November orders may run over 8 weeks due to our show schedule.   Occasionally we can manage rush orders or MAY have items in stock, please contact us before ordering.  Thank you for taking this into consideration when placing your order.

SLEEVE OPTIONS: